Computer service - PC and laptop
We provide one of the best and most affordable computer service in Montreal metropolitan area. With a vast experience in computer repairs we can deal with any problem you may be experiencing.
WHY CHOOSE

PC LAND

COMPUTER SERVICE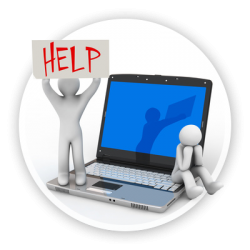 PC Land computer service provides hardware and software support, repairs and maintenance for any type or brand of desktop computers and laptops.
Regardless of the problem your PC or laptop has, we are 99% certain that we can fix it. However, if the repair costs are too high, we will recommend purchasing a new quality product that meets your needs and will advise you each step of the way.
We are also offering repair and maintenance services to companies in the Montreal area. Please see the business solutions page.
Data recovery
If you lost access to your important files, your computer died or you simply want to move your files from an old computer to a new one – we are able to help you.
We recover data from a formatted hard drive also.
Hardware Upgrades
RAM upgrade is always a great idea – it will boost your computers boot time and will make everything work much faster. Do you need a faster drive? We will install super fast SSD Drives – so your computer will boot in seconds instead of minutes and your web browser or email will open in a blink of an eye!
Malware and Virus Protection
We'll make sure all malicious software is eliminated and your data is safe. Your computer will be working as nothing ever happened. Antivirus software and advice on security will be provided.
Networking
Wireless network keeps cutting off or very slow? Need extending wireless to the very far end of your home or office space? Or simply want to setup a new location so you can enjoy the full speed of the internet you're paying for?
All this doesn't have to be major headache.
Setup
Give us a call and we'll help you set everything up. We will install (or reinstall) your operating system. We will also make sure your computer is protected against viruses, your email is working fine, your internet connection is at the required speed and all your data is backed up regularly
Maintenance
Your system must be regularly updated. If not, it could be compromised and open to attack from hackers. We provide maintenance to your system on site or remotely.
Computer problems we deal with
Well, your guess is correct. We fix them all.
Laptop hardware issues
Power adapter / Jack adapter
15%
Software and OS
Viruses, worms, trojan horses,adware
40%
Operating system faild
30%